"The Beginning..." is the twelfth and final episode of the fifth season of Gotham, as well as the series finale. The series flash-forwards 10 years into the future, as Bruce is set to return to Gotham for the opening of the new Wayne Tower. A series of crimes leads Gordon to believe Penguin and The Riddler are up to their old tricks. However, when Bullock is framed for a murder, Gordon begins to piece together an even more sinister plot targeting the city, and a new figure emerges from the shadows to be the hero Gotham desperately needs. "The Beginning..." aired on April 25, 2019
Pennyworth is an American crime drama, created by the Gotham showrunners Bruno Heller and Danny Cannon. It follows Bruce Wayne's legendary butler, Alfred Pennyworth (Jack Bannon), a former British SAS soldier who forms a security company and goes to work with Thomas Wayne (Ben Aldridge), Bruce Wayne's father, in 1960s London. "Pennyworth" aired on July 28, 2019.


Create blog post
Refresh
That was a huge mistake I made but I will never makes that same mistake again because it not right for me to do. Now I understand not I won't get back to the Arrowverse Wiki. I had ton of theories …

Read more >

I always wanted to put theories on the other tv like the Batwoman and the flash!

he never give  me a second chances or third chances.





he will never listen to me!

i wanted to post theories on the arrowve…

Read more >

Batman: Born Into Darkness is a hypothetical film I am developing. The most I will do is write a script and do a fan-cast. No actual film will be made, and I will eventually make an extended universe…

Read more >
See more >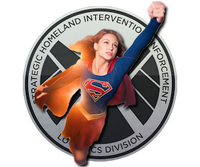 Community content is available under
CC-BY-SA
unless otherwise noted.