"The Beginning..." is the twelfth and final episode of the fifth season of Gotham, as well as the series finale. The series flash-forwards 10 years into the future, as Bruce is set to return to Gotham for the opening of the new Wayne Tower. A series of crimes leads Gordon to believe Penguin and The Riddler are up to their old tricks. However, when Bullock is framed for a murder, Gordon begins to piece together an even more sinister plot targeting the city, and a new figure emerges from the shadows to be the hero Gotham desperately needs. "The Beginning..." aired on April 25, 2019
Pennyworth is an American crime drama, created by the Gotham showrunners Bruno Heller and Danny Cannon. It follows Bruce Wayne's legendary butler, Alfred Pennyworth (Jack Bannon), a former British SAS soldier who forms a security company and goes to work with Thomas Wayne (Ben Aldridge), Bruce Wayne's father, in 1960s London. "Pennyworth" aired on July 28, 2019.


Refresh
I'm not sure if anyone has noticed but some a-holes are messing up our wiki! THe Edward Nygma page is gone! The Bruce Wayne name has been polluted, charcaters are being put in categories they shouldn…
Okay... So how is evrryone during covid? I know that of course in some countries it's chilling down but I just wanna check up on evryone who's in a country that isn't. 
PS. I'm the 11th on the leaderb…
See more >
Live action:
Arrowverse (Arrow, Batwoman, Birds of Prey, Black Lightning, Constantine, DC's Legends of Tomorrow, The Flash (1990), The Flash (2014), Supergirl) • Batman • Doom Patrol • Gotham • Green Lantern • Human Target • iZombie • Krypton • Lois & Clark: The New Adventures of Superman • Lucifer • Pennyworth • Powerless • Preacher • Smallville • Stargirl • Swamp Thing • Titans • DC Universe

Animated:
Batman: The Animated Series • Batman: The Brave and the Bold • Beware the Batman • DC Animated Universe (Batman Beyond, Justice League, Justice League Unlimited, The New Batman Adventures, Static Shock, Superman: The Animated Series, The Zeta Project) • Green Lantern: The Animated Series • Harley Quinn • Justice League Action • Super Friends • Teen Titans • Teen Titans Go! • Young Justice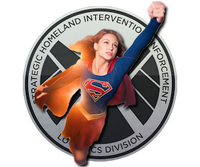 Community content is available under
CC-BY-SA
unless otherwise noted.