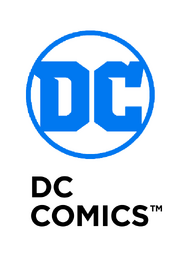 DC Comics, Inc. is an American comic book publisher. It is the publishing unit of DC Entertainment, a company of Warner Bros. Entertainment, which itself is owned by Time Warner.[1] They have produced famous comic book characters such as Batman, Superman, Wonder Woman, The Flash, Green Lantern, The Justice League of America and much more. For decades, DC Comics has been one of the two largest American comic book companies, alongside Marvel Comics. The initials "DC" were originally an abbreviation for Detective Comics, and later became the official name of the company. [2]
Elements from DC Comics brought into Gotham
See: Allusions to the DC Universe
In the episode A Dark Knight: The Sinking Ship, The Grand Applause, one of Sofia Falcone's henchmen was seen reading a copy of Detective Comics issue 14, the comic title that eventually inspired the current name of DC Comics and was a series also known for introducing Batman. 
General impact of Gotham in DC comics and other media
Elements from Gotham brought into DC Comics
Characters
Original characters
Elements from Gotham brought into other media
Merchandise
Based on the show, DC Collectibles released a Gotham City Police badge and a James Gordon statue with likeness of Ben McKenzie.[3]
At SDCC 2015, Diamond Select Toys released a toy line of figurines, modeled after various characters from Gotham.
On September 2015, Funko released a toy line of super-deformed figurines, Pop! Vinyl, modeled after various characters from Gotham.
Miscellaneous
To celebrate the premiere of the series, DC released exclusive character posters drawn by world-renowned comic artist Gary Frank (The Batman Chronicles, Batman: Dark Knight Dynasty, Batman: Earth One). The first one, featuring Jim Gordon, was released on July 23rd, 2014, followed by posters featuring Oswald Cobblepot, Selina Kyle and Fish Mooney, leading up to the show's premiere.[4]
To celebrate Comic Con International 2014, TV Guide Magazine and Warner Bros. Television are teaming up for a special issue. The magazine features four sets of collectible "flip" covers, including a Gotham illustrated cover, with some of the cast of the series getting a comic book make-over.[5]
To celebrate the appearances of several villains ahead of their debut episode, DC comics released exclusive illustrated posters of the characters: Scarecrow[6], Dollmaker[7], Firefly[8], Mr. Freeze and Hugo Strange for the episodes: The Scarecrow, Everybody Has a Cobblepot, Scarification and Mr. Freeze respectively.
Gallery
See Also
References
Community content is available under
CC-BY-SA
unless otherwise noted.